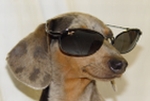 Chocolate Chunk
Pop
Patch
Licorice
Truffles
Taffy
Spree
Smores
Twix
Dachshund Pups
Chocolate Chunk
Dachshund Standards
About Us Mini Dachshunds

Chocolate Chunk "CC'

We couldn't ask for a sweeter dog. CC loves to follow us around. She might get distracted by a wrestling match with Licorice, but then she's right back by your side.

Isn't she pretty?

CC is 6 months old in this picture. We expect her to be about 9 lbs. Her color is extremely beautiful with her chocolate dappling running the entire length of her body.

"CC" is a Star!

Our dogs make great pets, produce beautiful puppies, and now they model sunglasses. CC has on Nike Odeon Swift sunglasses here, but you can check out our ebay store, A Cool Dog, for more Nike and Chanel sunglasses.
Pop | Patch | Licorice | Truffles | Taffy | Spree | Smores | Twix | Dachshund Pups | Chocolate Chunk | Dachshund Standards | About Us Mini Dachshunds
Please email Dog questions to: barb@acooldog.com
K9 BranD Cattle Co.

Barb - 512-848-7711

last updated 05/15/12
Copyright © 2002-2012 All material on this site, by K9 BranD Cattle Co. All rights reserved.